Papua New Guinea - Supporting UNICEF with COVID-19 vaccine rollout
GHD Foundation has made a financial contribution to the COVID Vaccination Alliance of UNICEF Australia to support the COVID-19 vaccine rollout in Papua New Guinea.
GHD Foundation's donation supports the timely, equitable and effective roll out of the vaccine in PNG by building vaccine confidence in communities that have high rates of vaccine hesitancy. UNICEF is leading the procurement, supply and delivery of the vaccine for more than 100 low and middle-income economies. The donation has helped UNICEF work with the Papua New Guinea National Department of Health and other partners, with responsibility for vaccine rollout planning and coordination, procurement, cold chain logistics and infrastructure, training of health workers, and community engagement to build trust and drive demand for vaccination.
In a country where more than 86 percent of the population lives in rural areas, vaccine deployment faces the challenges of limited resources, distance and topography as well as lack of community services in many villages.
Jo Metcalfe, Managing Director of GHD Foundation, says, "GHD Foundation was set up in 2020 to make a measurable global impact in in the communities to which we have had long-term commitment. Our support for UNICEF will be our largest donation to date and it's an honour to be able to play a part in ending the pandemic."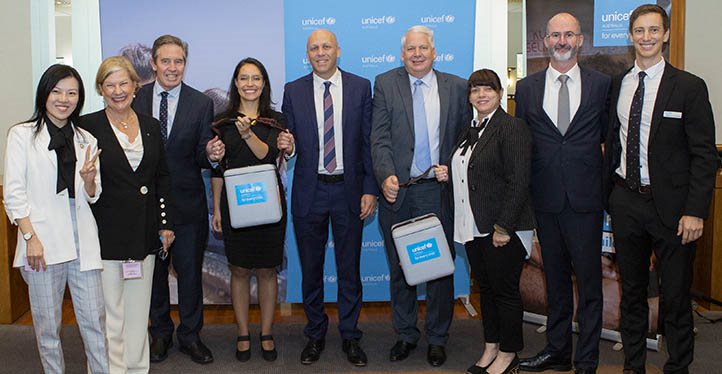 Rob Knott (fourth from right), Jo Metcalfe (third from right) and Ben White (second from right) at the launch of COVID Vaccination Alliance with representatives of UNICEF and other alliance supporters.
Rob Knott, Chairman of both GHD and GHD Foundation, says, "We are proud to be a Founding Member of the COVID Vaccination Alliance and contribute to UNICEF with other corporate donors to support the people of PNG. Our long term association with PNG began with our first infrastructure projects in 1967 and has grown to a significant Port Moresby office that has been operating over the past 12 years.GHD Foundation is another way in which we seek to give back to help build resilient communities."
Tony Stuart, UNICEF Australia CEO, says, "We are grateful for the GHD Foundation's financial contribution to support the roll-out of the COVID-19 vaccine in Papua New Guinea.
"Via the COVAX Facility, UNICEF has secured more than 500,000 doses of vaccines for PNG. UNICEF is taking on the huge challenge of delivering 2 billion vaccines to the world's most vulnerable, but we cannot do it alone. Thanks to the GHD Foundation and other Founding Members of the COVID Vaccination Alliance for joining us to power the largest and fastest vaccination operation ever attempt for humanity."